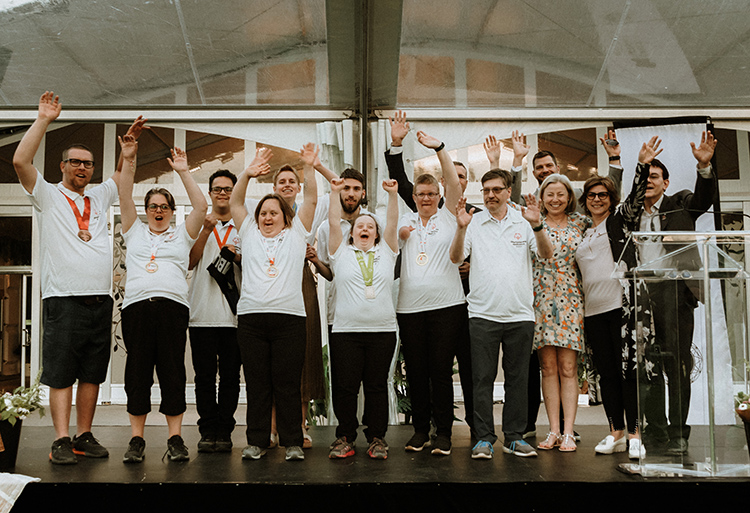 Under the honorary co-presidency of Éric Bujold and Judith Ménard, both vice-presidents at National Bank Private Banking 1859, the SUMMA benefit evening raised $685,333. Special Olympics Quebec's flagship fundraising event took place on Monday, June 20 in Montreal.
The chairman of the board of directors of Special Olympics Quebec Daniel Granger underlined the importance of the organization for the athletes, but also for their families.
"Special Olympics Quebec breaks isolation, promotes social inclusion, improves quality of life, develops autonomy and self-determination for thousands of athletes," said Mr. Granger during his address to guests. Special Olympics Quebec is the only organization that offers the possibility of practicing 17 organized sports throughout the year in all regions of Quebec and that offers people living with an intellectual disability better access to screenings and health services thanks to to its healthy community component."
For her part, co-president Judith Ménard confirmed National Bank Private Banking 1859's commitment to the cause.
"Social inclusion is a value dear to our company and we are happy to support Special Olympics Quebec. We would like to confirm our commitment for the years to come," said Ms. Ménard, before warmly thanking the guests for their presence in such large numbers.
Hosted by Émilie Duquette of the Réseau des sports (RDS), the evening, which looked like an English picnic, allowed generous donors to exchange and discuss while the string quartet Gabrielle Richard played classical and popular tunes. Special Olympics Quebec athlete and artist Lena Baldoni painted a work on site and her canvas was purchased at the auction.
In addition, in exchange for a donation, guests could try to hit a target with a soccer ball following a pass made by CF Montreal president Gabriel Gervais. Guests were also able to meet Special Olympics Quebec athletes and compete against them in various sports. Several sports and business personalities were present and an RDS team provided media coverage of the event.